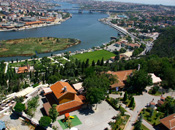 Location
Turquhouse Hotel is located on a hill known as the Pierre Loti hill in Eyüp district from where all the seven hills of Istanbul can be seen. The hotel consists of seven ancient Istanbul mansions built in the second half of the 18th century. The seven mansions, Eyüp, Ayvansaray, Balat, Fener, Cibali, Hasköy and Sütlüce have all been restored and re-interpreted and are situated in a 20,000sqm. area with a large garden. Aziyade restaurant, Tarihi Kahve (Ancient Coffeehouse), Yeşil Cafe, and Nargilevi (Nargile House) along with the unique view of The Golden Horn offers our valuable guests an unforgettable experience in a historic and a peaceful atmosphere.
Turquhouse Hotel has been formed with the restoration and re-interpretation of seven ancient Istanbul mansions originally built in the second half of the 18th century. Each mansion has a variety of rooms equipped with different features. We provide you with the utmost comfort with a total of 67 rooms and 115 beds.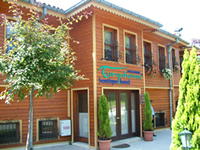 The hill Turquhouse Hotel is situated on is named after the French novelist and naval officer Pierre Loti due to his frequent visits to the area.
Istanbul has mostly been pictured and painted from this particular hill and you will understand the reason behind this when you are tasting our delicious cuisine in one of our comfortable mansions far from the noisy city looking at the seven hills of Istanbul.
Our hotel is located within a ten minute walk to the historic Eyüp Sultan Mosque and is the only hotel that can be reached with a teleferic in Istanbul.
Other forms of transportation such as the local bus lines, metrobus and boats are also available.
Turquhouse Hotel is an Atalar Group establishment and has been proudly serving our invaluable clients since 2002.